Chest wall reconstruction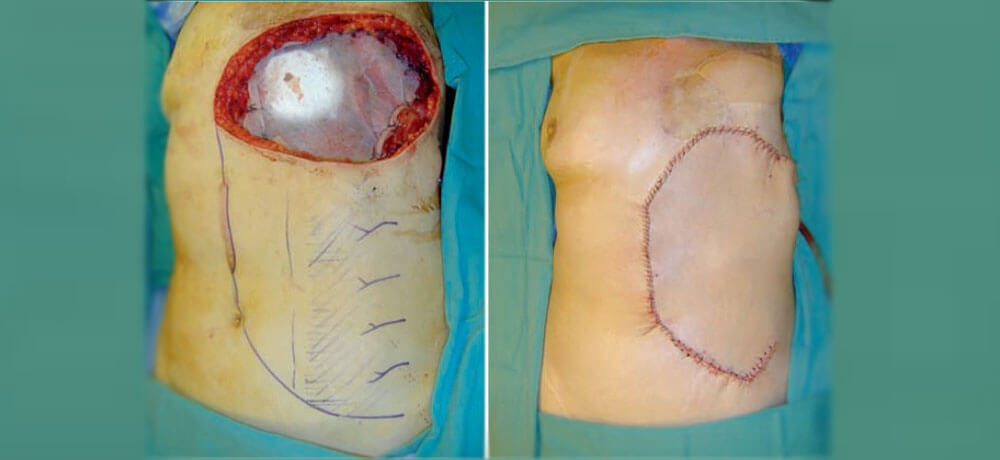 Most malignant as well as large benign tumors of the chest wall typically require thoracic surgery to cut away the abnormal growth. Chest wall resection involves the partial or full surgical removal of soft tissue, cartilage, sternum and/or ribs.
Chest wall reconstruction, using manmade prosthetic materials such as artificial bone or titanium rib plating, may be employed to rebuild the skeletal structure of your chest wall after chest wall resection. Some chest wall disorders due to congenital conditions or trauma also benefit or require chest wall repair and reconstruction.
Sternal Reconstruction
Sternal reconstruction may be needed after a surgery that utilized the sternum (Chest Bone) as access to the chest cavity. This is a common approach for coronary bypass or valvular surgery. Sometimes after surgery a complication such as an infection causes a problem where your sternum cannot be closed entirely.
Dr. Jacob has a vast experience in treating sternal wounds including those that are acutely, or chronically infected. First, special attention is paid to clearing the infection with meticulous wound care. Then a number of techniques may be employed to achieve final closure, including muscle, or even omental flaps.
If you have an infected sternum or a chronic wound of your sternum, you may be a candidate for sternal reconstruction. You must be healthy enough to undergo general anesthesiaanaesthesia in order to be a candidate.
Sternal reconstruction can provide durable long lasting coverage to a chronic wound of your chest bone.